Windows MiniOS is an unattended version of Windows that offers the user a more pleasant experience, due to the elimination of some (unnecessary) features of the operating system in order to provide greater performance and fluidity during its use.
Where and by whom was it made?
It is developed by Daniel Rodríguez (Doofy), Cuba.
What versions of Windows has this unattended operating system worked on?
Windows XP PRO (32 Bit).
Windows 7 PRO (32 and 64 Bit).
Windows 8.1 PRO (32 and 64 Bit).
Windows 10 LTSB (32 and 64 Bit).
Windows 10 LTSC (32 and 64 Bit).
Windows 10 PRO (32 and 64 Bit).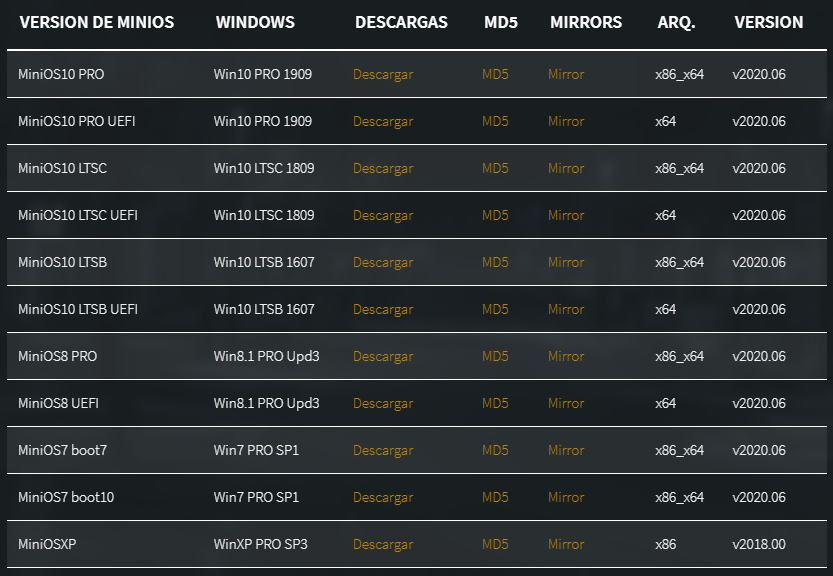 Is it possible to install this system unattended in a virtual machine?
It is possible, with tools such as VMware and VirtualBox, it should be borne in mind that when using VMware you should check the option "add the ISO later", because if this is not done, the default Windows configuration will be applied, thus rendering many unusable. optimizations made to the system.
How should this unattended system be installed?
It is installed like any of the official Windows versions, within the .iso file you can find the tool called "Rufus", which is recommended to boot from the USB, you can select the MBR partition scheme if it is for BIOS or GPT if it is for UEFI.
What type of equipment is this unattended system developed for?
It is developed and designed for all types of hardware, including equipment with hardware limitations or advanced "Gamers" equipment, it is made to get the most out of the hardware, as a result of which it was necessary to eliminate some features that limited the hardware's advantage. There are versions specially developed for low-end equipment or others for medium/high range.
What requirements must the hardware meet to install this unattended system?
They are optimized versions, however, it is recommended to take into account the same requirements as the official versions, although it will run smoothly on computers with lower hardware resources.
Can you update to a new version from an already installed one?
It is not possible, even if it is from one version of MiniOs to another, you will always have to perform a clean installation from scratch, it is recommended to delete the partitions during the installation and re-create them in order not to drag old files.
How is this system installed correctly?
Carrying out a clean installation and deleting the partitions before proceeding to recreate them ensures that you do not drag old files, especially in the partition where the system was installed.
Do I need to install updates?
It is not recommended to update from Windows Update, as the system lacks some components, some updates could make it unusable, however, it is possible to install specific updates that are required.
Does it update in tandem with Microsoft?
All editions and versions of MiniOS have necessary updates for their correct operation, except for MiniOs10 PRO, which will be on the latest cumulative update on the date of its publication.
How is MiniOS7 boot7 and MiniOS7 boot10 different?
Basically the difference is the Windows installer, Boot 7 uses the Windows 7 installer and Boot 10 uses the Windows 10 installer, some modern computers make it difficult to install Windows 7, in this case it is recommended to opt for Boot 10, the system in both cases it is exactly the same, the only thing that changes is the Windows installer, it should be noted that by forcing a computer to install Windows 7, you can have problems with the drivers.
NOTE: Forcing a modern computer to install Windows 7, it is almost certain that we will have problems with the drivers, since for example if the hardware manufacturer only develops drivers for Windows 10.
try them
Windows 10 LTSB and LTSC MiniOS 2020.06: Click here
Windows 8 PRO MiniOS 2020.06: Click here
Windows 7 MiniOS 2020.06: Click here