Getting Hotmail free was not easy for its creators. There were many attempts to get sponsors, financing. no one bet on them until the Draper Fisher Juvetson company did. In July of the following year, in 1996, it would begin to be a reality. As a "tribute" to the freedom that Hotmail meant to us (freedom to browse from wherever we wanted, to connect without paying, easy…) this system was premiered on July 4, 1996Independence Day in America.
the beginning
Hotmail was not in its beginnings as you may remember it. It wasn't a platform full of options, colors, emojis, buzzes, or even moving stickers that we could add to chats. It was much simpler and, above all, much more limited. In its beginnings, perhaps the older ones remember it, we only had 2 MB per user to store emails (15 GB offers us Gmail today) Something much smaller than what we have today but that seemed to be enough for millions of people: in its first week it already got a million registered users. A year after its launch, Hotmail already had more than eight million subscribers worldwide.
Such was its success that it did not go unnoticed by Microsoft. A year and a half after starting a project that no financier was betting on, Microsoft paid 400 million dollars. Hotmail had, at the time, nine million users. In December 1997, Microsoft bought Hotmail and unified the service with MSN, looking much more like the one we all remember, the "WhatsApp" from the beginning of the century. The merger achieved the desired effect: more visibility, more popularity, more users. So much so that only three years later, in 1999, 30 million active users were reached and Hotmail was, after the purchase by Microsoft, the largest "webmail" service in the world.
MSN Messenger and MSN Spaces
Hotmail offered everything that could be asked of it: it was an email system through the browser and it also allowed us to connect to MSN Messenger as a instant messaging program or even access MSN Spaces or those "spaces" that were before Tuenti, on Instagram. Spaces where there was room to upload photo albums, write texts with colors.
MSN Messenger allowed us, in 2005, to make video calls with friends or contacts for free, use chats and groups to talk to several people at the same time and even instant messaging to the mobile if you have one. It had also added all the customization that we remember today: the buzzes, the winks, the contact cards, the personalized backgrounds. we could put messenger "status" songs or we could customize the "My space" section to our liking. It became an essential tool for anyone and you will surely remember it.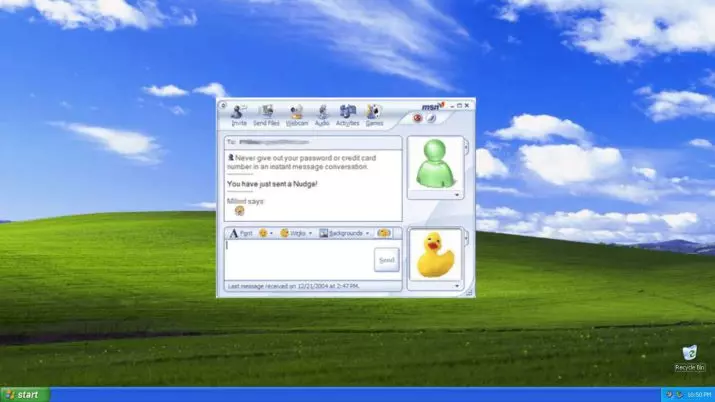 But, although Hotmail offered almost everything, it already had competition. Yahoo was still a fully recommended alternative and Google came on strong with Blogger and Gmail.
The feared rival: Google
Yahoo was already Messenger's main rival for years and even launched, in 2005, its "Yahoo! 360º" very similar to the remembered Messenger spaces. In addition, it offered email and intended to "encourage investment in social networks." But he wasn't the only one either. Google was already thinking of Gmail and already had Blogger, which had been launched in 1998 as one of the first websites or tools for "creation of blogs", a term that today sounds absolutely obsolete, but twenty years ago it sounded new, current. Google also had Picasa since its purchase in 2004, so users also had a kind of online album that allowed them to replace those MSN spaces and where they could upload photos sorted by categories, organize them, etc.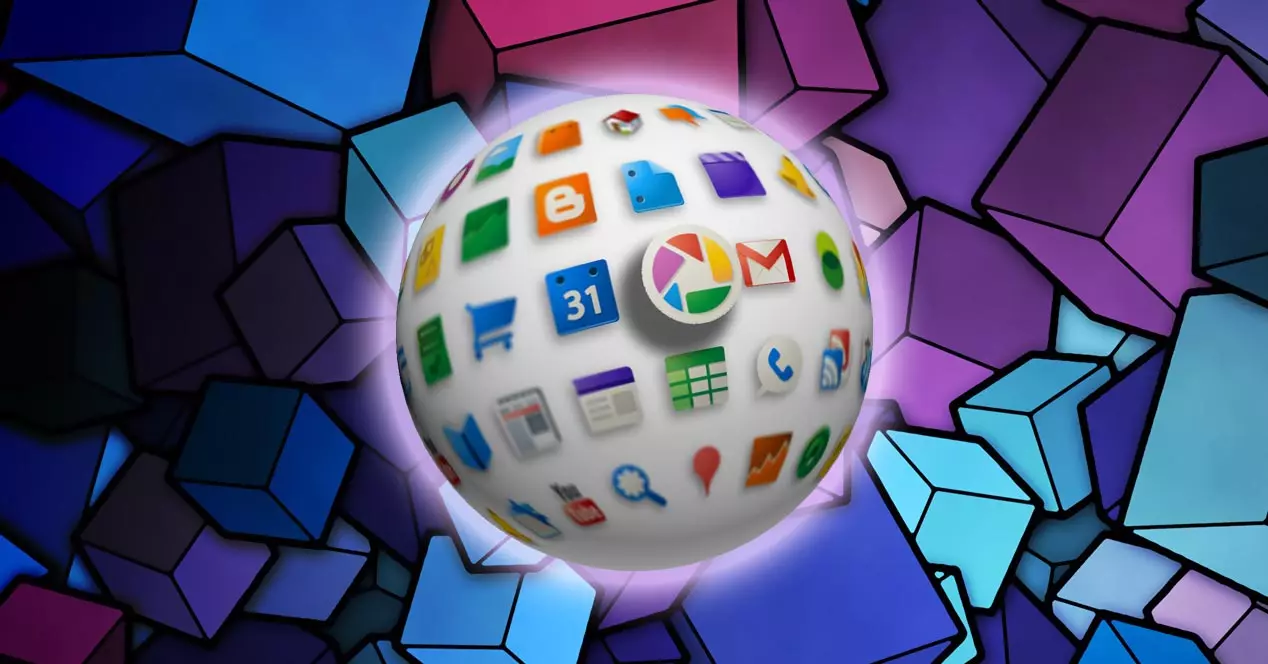 Y gmail. In 2004, Google announced that it would launch your own email service and it was to become Hotmail's main rival, along with the aforementioned Yahoo. Those of Mountain View announced speed, more storage than that offered by its competitor, greater security. This inevitably caused Microsoft to decide to bet on its new version Microsoft Live Hotmail (initially thought of as MMicrosoft Live Mail) which would include improvements, more speed and more security. Users could migrate their mail to this new service that years later (in 2010) would include updates with space for photos or integration with the online version of Office.
Although at first they resisted mandatory modification or migration of all Hotmail emails, Microsoft ended up taking them to outlook.com without the user (this time it was different from the previous one) doing anything. The company announced in February 2013 that there would be an (automatic) migration of all Hotmail accounts. They would work through Outlook with a much more intuitive, more comfortable, cleaner interface. A migration that was completed in May 2013 with hundreds of millions of users.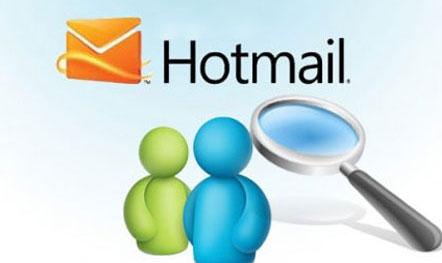 Hotmail disappears
Microsoft announced that Hotmail would disappear. In the second decade of the 21st century, webmail had lost relevance and the presence of Gmail around the world was beginning to be noticed. Today it is much more common to use the Google service as an email, especially due to its connection with Android smartphones, for example. Microsoft decides to move all its accounts to another service: Outlook. Outlook already existed and was part of the Microsoft suite, so Hotmail did not disappear, but was absorbed.
It was then, in the year 2012, when Hotmail began to migrate to Outlook.com keeping the @hotmail.com extension but trying to offer a more modern experience.
Now we can continue to use this service, but with a name change, through Microsoft, through Outlook. Since the mail service was baptized with Outlook.com, it must be said that it has been modernized quite a bit and now has a much more minimalist design. In addition, it has certain features similar to those that we can find in Gmail and many others that are reminiscent of Microsoft Office's own Outlook.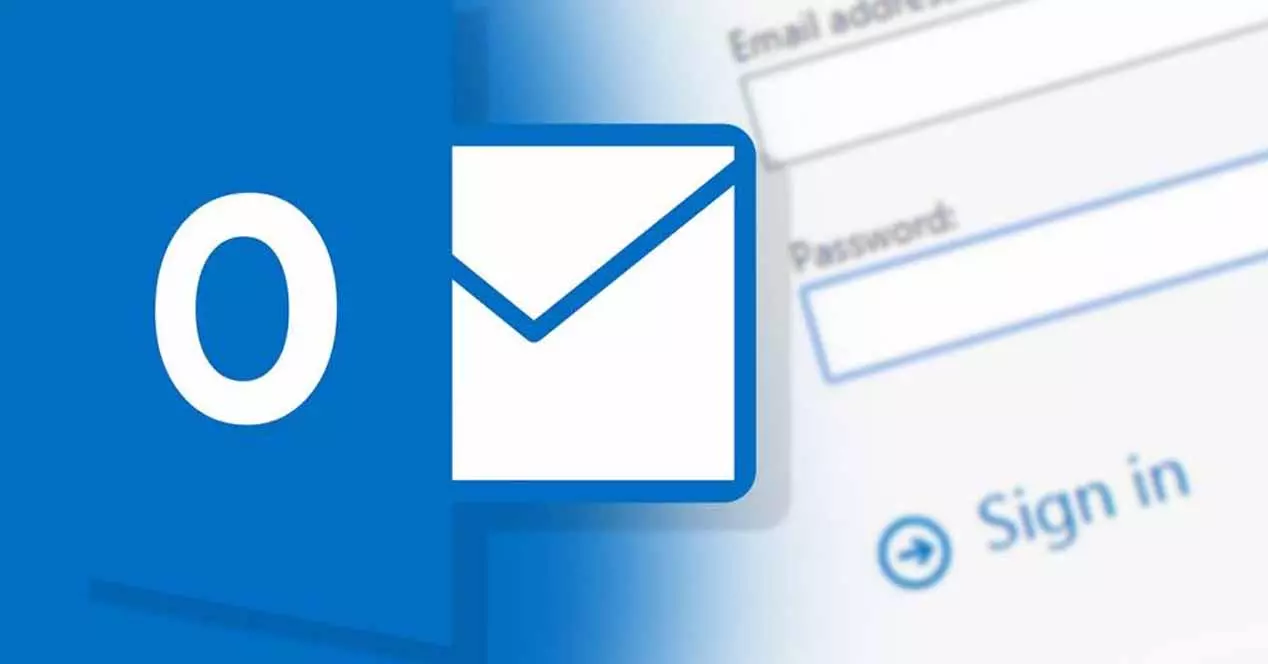 Create, recover and export accounts
We can continue using our Hotmail email account or we can create a new one if you are nostalgic and miss the interface of that popular email. Today it is still a valid option and full of options and tools like any other. Using Hotmail is a good option and they are not closed accounts that we can no longer recover. That's why we explain how to log in to your account from ten or twelve years ago if you haven't used it again, but also how we can create a new one and even how to read your Hotmail messages from Gmail.
Recover Hotmail Accounts – Login
Hotmail email accounts are not, as of today, closed accounts. Unlike other services that are now defunct, these accounts are still valid. Namely, if you had an email with @hotmail.com, you can keep using it. Although you can not open your Messenger as before, you can use it. Since 2012, all Hotmail accounts automatically became Outlook client email accounts. The procedure has changed, but you still have access to all the emails you had, to everything you had saved. Yes indeed, from the Microsoft service.
One of the main advantages of Hotmail email accounts over other old accounts is that you don't lose them due to inactivity. Even if five, six or twelve years have passed since you haven't opened Hotmail, nothing happens because you can continue using the mail and accessing your inbox, the account is not closed. To check your emails, you must follow a few simple steps:
Open the Microsoft Outlook web page
Write your email account
Type your password (if you remember)
When accessing your Hotmail account you don't have to worry because it hasn't expired and everything will be there. You just have to write the email with @hotmail.com. You will access all your emails and to the inbox and you will be able to manage everything as you have always done.
If you want to delete your old account so that you no longer receive emails. You just have to touch in the upper right corner of the screen and choose "My Microsoft account". Here you will access all the details of your account and at the top you will find a menu where you can see: Your information, privacy, security, rewards… manage the account and delete it although first make sure that it is not associated with any other service.
Create a new Hotmail account
If you're excited or just want to have a Hotmail account, you can still create one. you can create it from the Microsoft website, from the Outlook service. To create a new account, the first thing we have to do is go to signup.live.com and follow the steps shown below:
Open the Microsoft registration website
Click on "Create account"
Choose the option "Get a new email address"
You'll see a space appear to enter your new email, and then a drop-down menu with several options. If you touch you will see that there are several domains that we can choose from:
outlook.com
outlook.es
hotmail.com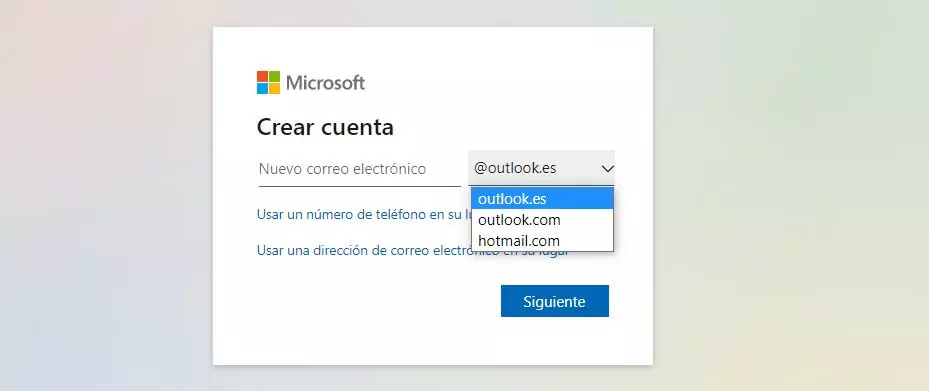 Choose "hotmail.com" and write the email that you will want to use from now on. Once you have it, you must confirm with the "next" button, but keep in mind that the email you write may not be available at first and an error may occur. Microsoft will display a message in red at the top: "Someone has this email address. Try another name." Try longer names or add numbers to be able to create it.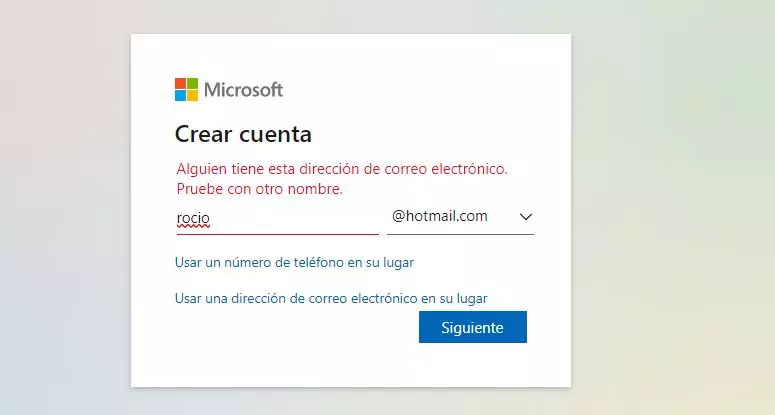 Once I allow you, you will see that you have to create a password. Use as many different characters as possible: uppercase, lowercase, numbers, and symbols. This will make it more difficult for them to access your account in case someone wants to hack it. Fill in the password and touch in "Next". Now you will have to fill in your data: Name and surnames. After this screen, we will have to continue adding details: you must choose the country or region in which you live and the date of birth.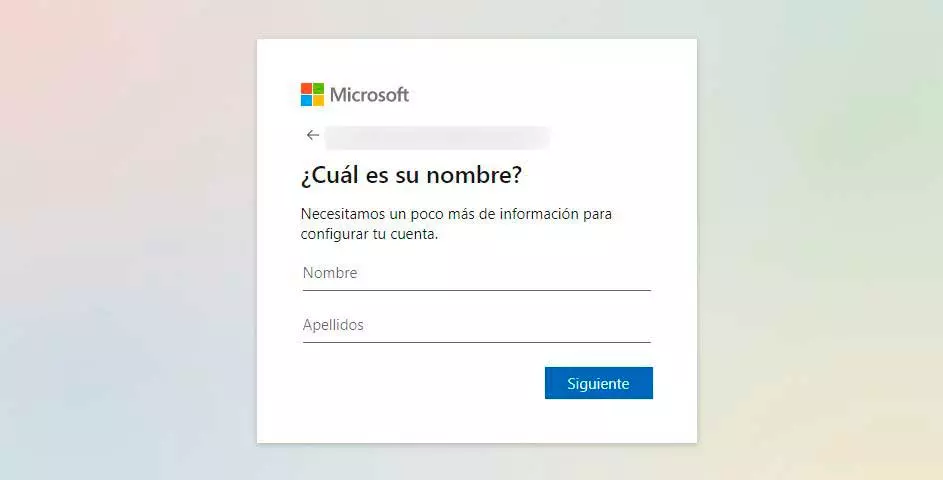 Finally, you will have to solve a "puzzle" as a captcha to create the account. You can now use it normally and access all Microsoft services.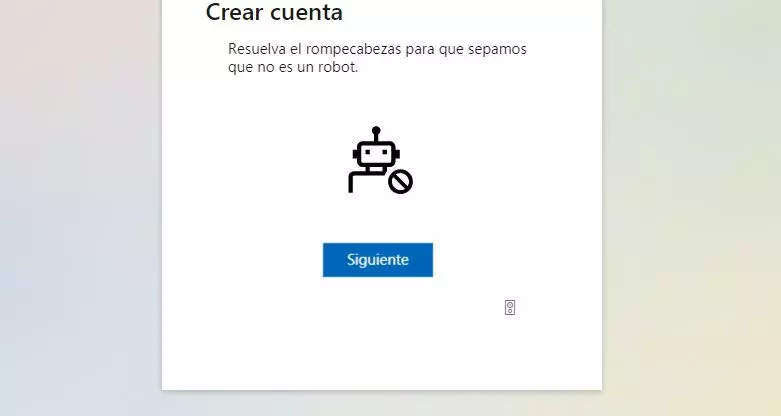 You will have created your new Hotmail.com email account even though we are already in the third decade of the 21st century and it seems somewhat obsolete. You can use it whenever you want by accessing it as we have explained in the previous section, from Outlook.com in its web version or downloading the applications or the desktop client that allows us to always have it at hand.
Read your Hotmail in Gmail
This may seem complicated but we can add our Hotmail account to Gmail if we have recovered it. For example, you have your old Hotmail account and now you use other work or personal emails in the Google service. But you want to recover them and you want it to have the same interface without having to use Outlook… In that case, we can configure our mail with the data from this email to have all the unified services whenever we want.
The first thing we have to do is go to Google and follow these steps:
We open our Google account
We log in with our username and password
We click on the gear icon and open settings
We touch on the "Accounts and import" tab
We look for the option "We consult the mail of other accounts"
we choose "Add an email account"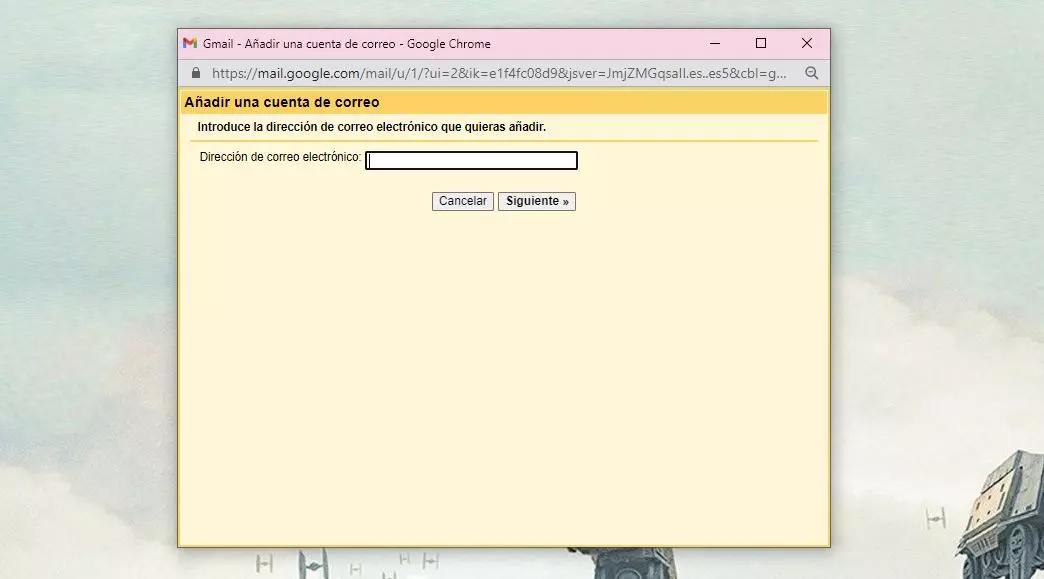 Here we will have to enter the address and touch "next" where a message will tell us that we can import the emails or link the accounts such as Gmailify that allows us to manage both addresses from Gmail and keep both. We can choose this first option and touch "next" to start configuring our Hotmail in Gmail. We will have to give access to Gmail from Outlook by accessing our Microsoft account. Once we have it, we will start receiving emails in the same inbox.