– Advertising-
Despite the fact that nowadays anyone uses mobile data to be online all the time, there are times that they do not work and that can happen due to a bad configuration of the APN Do you know what an APN is?
An APN (in English, Access Point Name) is an access point that is used for a device to connect to the Internet using the networks of a mobile operator. Similarly, using this configuration it is also possible to receive and send multimedia messages.
Today I will teach you how to use an APN and more.
What is an APN?
The Access Point Name is the configuration that is entered in a device (smartphone, tablet) to be able to access the Internet through a data package.
Generally, when you insert a SIM from another company to your device and the internet does not work, it is because you have to configure the access point.
The connection can be made by GPRS or 3G, 4G and even LTE.
How is an APN configured?
Unfortunately, the connection depends on the operating system of each device, it varies if it is Android, iOS or Windows Phone.
In a very general way, the configuration is carried out as follows: Go to Settings – Configuration – Wireless networks – Mobile networks – Access points.
In the last section, it is possible to add the APNs of the different mobile operators in the country. When you finish adding them, it is very important to click save, so that the configuration is not lost.
Access Point Name of Operators in Mexico
Below is the complete and updated list of operators available in Mexico.
Remember that to configure these data, you only have to enter: Main Menu -Settings – Wireless Settings – Mobile Networks – Access Point Names (APN) – Press the Menu button and choose New.
When you are in the new access point, the configuration that you must enter is the following:
Telcel APN
APN: internet.itelcel.com
proxy: (empty)
Port: (empty)
Username: webgprs
Password: webgprs2002
Authentication Protocol: PAP
Server: (empty)
MMSC: (empty)
MMS proxy: (empty)
MMS port: (empty)
MCC: 334
MNC: 020
APN type: default
Settings for MMS
Name: MMS
APN: mms.itelcel.com
proxy: empty
port: empty
Username: mmsgprs
Password: mmsgprs2002
Authentication Protocol: PAP
Server: empty
MMSC: http://mms.itelcel.com/servlets/mms
MMS proxy: 148.233.151.240
MMS port: 8080
MCC: 334
MNC: 020
APN type: mms
APN Movistar Mexico
APN: internet.movistar.mx
User: movistar
Password: movistar
Iusacell and Unefon
APN: web.iusacellgsm.mx
User: Your 10-digit number
Password: It is the same one you use in MY UNEFON
APN AT&T Mexico
Name: at&t
APN or Access Point Name: modem.nexteldata.com.mx
proxy: (empty)
Username: empty.
Password: empty.
MMSC: (empty)
MMS proxy: (empty)
MCC: 334
MNC: 090
Authentication Type: Not set
Nextel or AT&T Mexico
Modem Configuration
Name: Nextel Modem
APN: Modem.nexteldata.com.mx
MCC: 334
MNC: 090
APN TYPE: dun
Location
Name: Nextel Location (Location)
APN: location.nexteldata.com.mx
SERVER: http://supl.nexteldata.com.mx
APN TYPE: supl
Navigation
NAME: Nextel Navigation
APN: wap.nexteldata.com.mx
PROXY: 201.175.130.20
APN TYPE: default
MMS service
NAME: Nextel MMS
APN : mms.nexteldata.com.mx
MMSC: http://3gmms.nexteldata.com.mx
MMS PROXY: 129.192.129.104
MMS PORT: 8080
APN TYPE: mms
Edit and view APN settings on iOS
Apple recommends the following: "Do not edit the APN, unless instructed to do so by your carrier or IT administrator."
If despite the warning, you need to modify it, follow these steps: Settings > Mobile data > Options > Mobile data network.
To change the settings, tap on each field and enter the details provided above in this post, remember to only use the information from your mobile operator. The settings should be saved automatically.
eye! Depending on your carrier, you may not be able to change the cellular data settings on your phone. If you want to change this and you don't have access, contact your operator.
Edit and view APN settings on Android
To begin setup on your Android phone, go to the following menu on your device: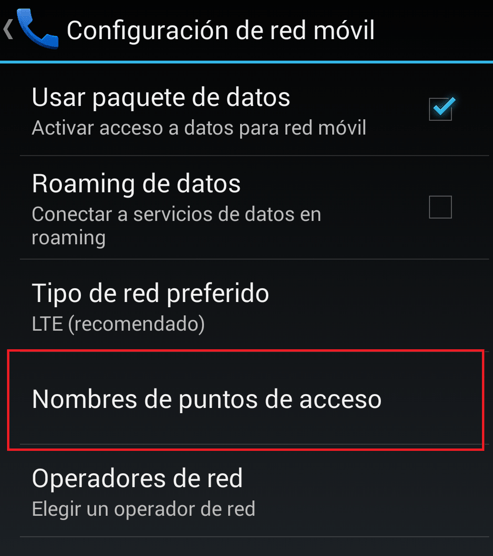 In the next video, you can see how this configuration is done in a simple way on an Android.
APN is not the same as VPN
Access Point Names (APNs) and Virtual Private Networks (VPNs) are different ways for people to exchange data over a network.
APNs allow users to connect their mobile phones to a mobile provider's network.him in particular.
Secondly, a VPN protects private information that is sent over a public telecommunications network.
These are their main differences:
VPNs were created for the transmission of private information, in a public communication network.
A VPN always encrypts the data that is exchanged over it, so it is only available to people using the same VPN.
In an APN, your mobile provider determines the level of security for them.
Any mobile data provider user has access to an APN in general. So thousands of users can be connecting to the same network at any given time.
VPNs can be used by a large number of people, but the profile of each user who is given access must be specifically added to the network with certificate enrollment.
Do you still have questions about this topic? Share them with us on our social networks.
– Advertising –