Latitude. Length. Two essential concepts to be able to reach a specific place. There are many ways to navigate with Google Maps, but sometimes an address isn't specific enough or the location you're looking for doesn't even have an address set. Fortunately, you can use precise coordinates to locate a position and share it with other users quickly. Therefore, we are going to explain how to see coordinates on google maps.
It is a fact that the use of GPS has left aside the classic paper maps. Above all, because we have a good GPS in the palm of our hand thanks to smartphones. And yes, a paper map may not be as easy to read. Although we have the two essential data to interpret it correctly, it may not be as accurate as an electronic device using satellites.
How to get coordinates on Google Maps, on Android and iOS
Thanks to technology, we can now find any place quickly and easily. Only by using an application on our mobile phone, either using GPS, Internet, or a combination of both to be even more precise. And if we talk about precision, you will know that There is no better solution than providing the coordinates of a place.
Next, you can see the indications to obtain coordinates on Google Maps, both on Android and iOS:
First, open the Google Maps app on your phone
Then press and hold an area of ​​the map that is not labeled to place a red marker
Now, you will be able to see the coordinates in the search box or by swiping from the bottom to the top to display the pop-up menu from the bottom of the screen
Then you can copy and paste the coordinates to share with other users as you wish
As you have been able to verify after this brief, but concise, explanation, it really is very simple. know the exact coordinates of a place. In this way, you will be able to know the latitude and longitude of a location using Google Maps through your smartphone, either in the Android or iOS app.
Get the latitude and longitude of a place on Google Maps, on the web version
Getting GPS coordinates for a specific location using Google Maps is easy and can be useful if you're looking for a very specific place, like a precise location in a park where your friends are or a house in the mountains in a big place.
Now it's time to see how to get the latitude and longitude of a place on Google Maps using the web version. Follow these simple steps:
First, open Google Maps in your browser. You can click the following link https://www.google.com/maps
Next, click a location on the map, drop a custom pin, then right-click the pin
A popup window will open and you can find the latitude and longitude in decimal format at the top. Other options include setting directions to or from the location or finding nearby attractions and services
To copy the coordinates that appear on the screen, left click on the latitude and longitude. They will automatically be copied to your clipboard so you can save them for later or paste them into a message to share with other users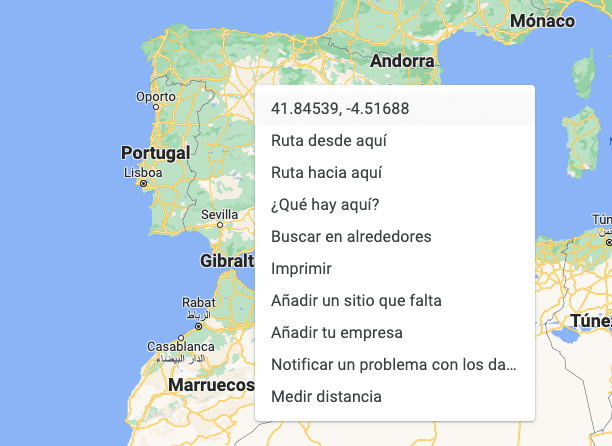 It's that simple. With the exact coordinates, latitude and longitude marked on the map, you can share it via WhatsApp, Telegram, etc. It is a great utility, for example, when you want to explore a specific place. You can too get the coordinates of the places you have already found before.
you will be interested
Last but not least, you should know that in addition to longitude and latitude, you can use plus codes to share a site without an address. Now we want to ask you, do you often share the latitude and longitude of a location to indicate how to get to another person?
Do you want to receive the best information about technology?​
Enjoy the outstanding news of each week directly in your inbox to always be informed.