The Best Shoe Stores in the World, a special vacation tour for sneakerheads
The list of the best shoe stores in the world is today an essential, as is the list of the best television series. Demands that everyone makes on social networks.
Sneakers are today an icon of our culture, an essential garment in anyone's wardrobe, regardless of their social status, something that had not happened since the globalization of the use of jeans. It was created in its origins for the practice of sport and today it grabs headlines and invades social networks. Some models sell out in minutes, there are exclusive limited editions every month, and some models can go for over $50,000 at resale. But let's go back to 1985 when Michael Jordan broke the NBA's "51 percent" rules that dictated that players' shoes had to be more than half white in their design. Michael played in his Nike Air Jordan I that were designed solely in the colors of his team, the Chicago Bulls, black and red. Every time Jordan wore these shoes, Nike had to pay a fine to the NBA, getting one of the best marketing campaigns in history and thus was born into one of the greatest objects of desire of our time. The Nike Air Jordan are the best-selling and most sought-after sneakers on the resell market. But the other giant, adidas, was also doing his own strategy. Rappers wore their clothes and young people wanted to wear and copy their musical idols. The group Run DMC was the first rap group to include a video clip on MTV. Within their third album appeared a song titled "My Adidas" where they voluntarily showed their love for the brand of the three bands. It was the year 1986 and Adidas was another of the favorite brands of young people. Now, sneakerheads from all over the world search their consumption temples for the most precious treasures that in many cases they don't even use. They travel all over the world to get hold of the most special editions from Tokyo to New York. These are some of the best sneaker stores in the world, so you can set your next destination depending on the next release.
For all sneaker lovers, here is this little guide to the best sneaker stores in the world, with links to their own websites so you can dive to your heart's content.
The best shoe stores in the world (a list in strict alphabetical order)
24 karat
Barcelona, ​​since 2005
This store located in the Born district of Barcelona brought a new way of understanding sneakers and urban culture. It has managed to earn a place among the best shoe stores in the world, which has led it to collaborate with brands such as Diadora, Le Coq Sportiv, New Balance, Asics or most recently with Nike Football. It also has a second location in Bangkok. www.24-kts.com
————-
Photo Above: 24Kilates
————-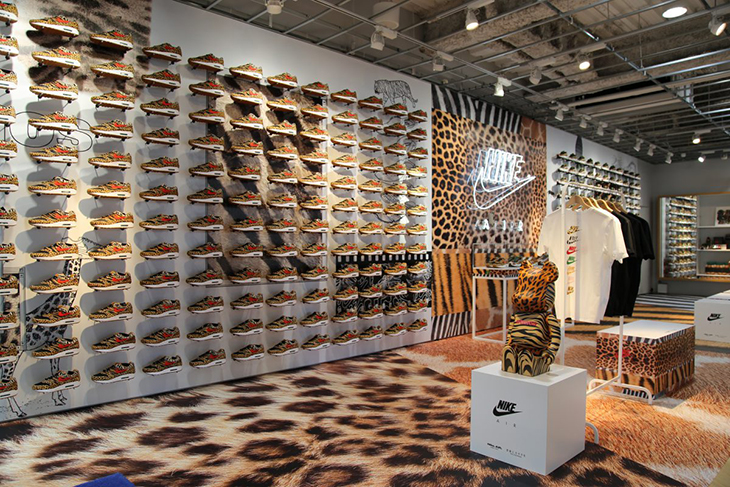 ATMOS
Tokyo, since 2000
The authentic temple of slippers exists and is located in Tokyo. Well this was their original situation, currently they are present in Japan, China, Korea, Thailand and New York. His collaborations with Nike are among the most desired and anticipated on the market and they sell out in a matter of minutes. The mecca for sneakerheads is undoubtedly Atmos. www.atmos-tokyo.com
————-
Photo Above: Atmos Japan
————-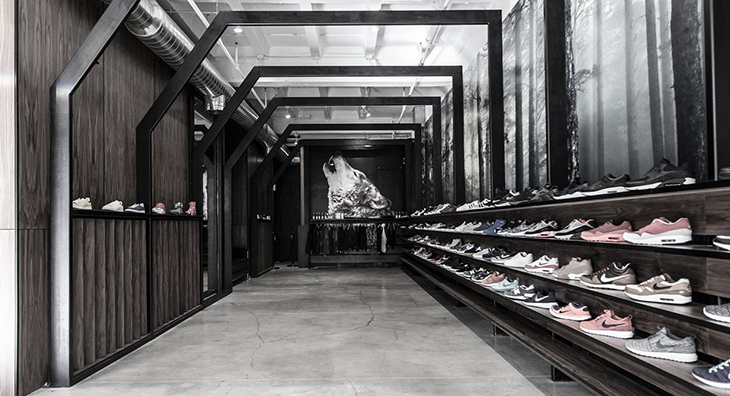 BLENDS
Costa Mesa, since 2003
They already have four stores on the West Coast of the United States. But Tak Kato and Mike Toe, its creators, grew up in Japan, so their business perspectives and tastes are very different, and therein lies part of their success. They have their own apparel brand and their collaborations with other brands are also common, such as this season with Vans Vault. blendsus.com
————-
Photo Above: Blends
————-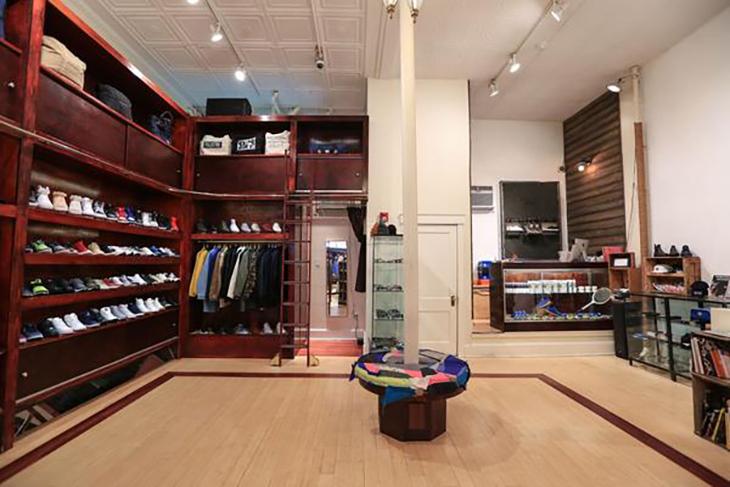 CELLAR
Boston, since 2005
This store is, without a doubt, one of the most fun places to go shopping. The main entrance houses a "fake" grocery store and in the back, behind a secret door, the treasures of streetwear are hidden. Here, in addition to the classics, we can also find garments by Astrid Andersen, G-Shock, Wacko Maria, Pleasures… and also their own designs. A more original point of view in addition to the main collaborations. www.shop.bdgastore.com
————-
Photo Above: Winery
————-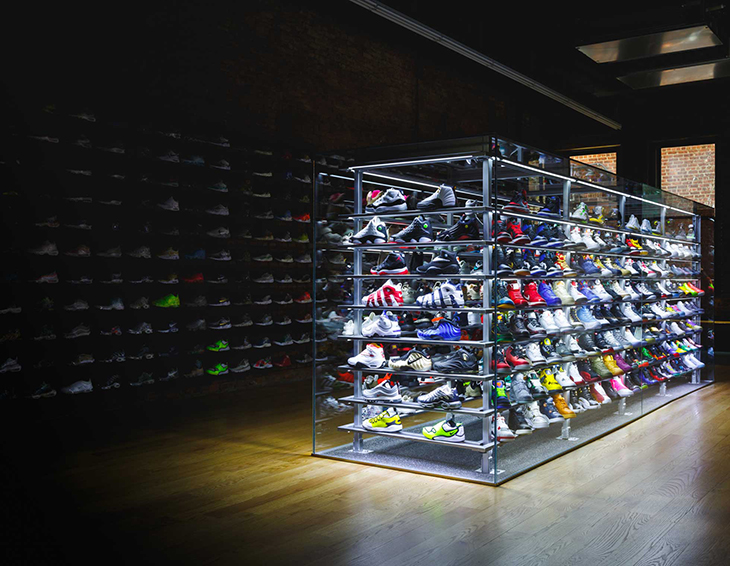 FLIGHT CLUB
New York, since 2005
Are you looking for a specific shoe? A discontinued model? Flight Club is your place. Possibly among its shelves are the most coveted editions, it is quite a shopping experience. If you are looking for a Balenciaga Tripe S, you know where to find them. www.flightclub.com
————-
Photo Above: Flight Club
————-
FOOT DISTRICT
Madrid (2012)
Its founders, Diego and Nacho, started this project as an online shoe store in 2012. Three years later, they opened their first physical store in Madrid. They are currently on Calle Valverde (Malasaña) in a space decorated like a bunker, halfway between industrial and post-nuclear aesthetics. They have an exclusive space for fans of Jordan shoes of all time. footdistrict.com
————-
Photo Above: Foot District
————-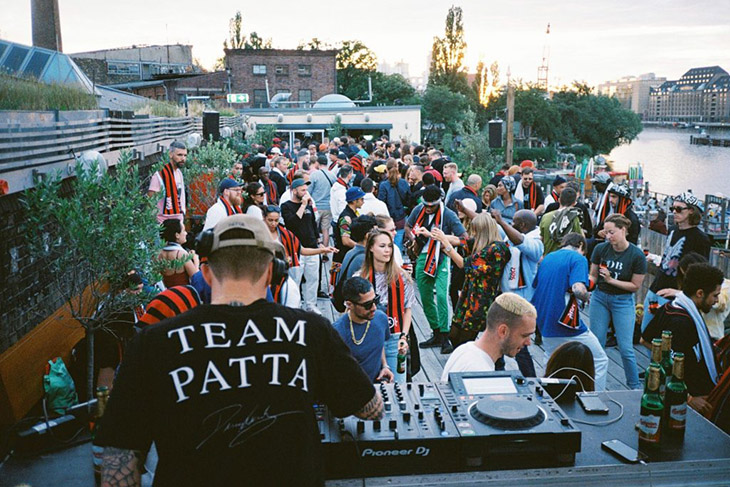 PATTA
Amsterdam, since 2004

Its founders are Edson Sabajo and Guillaume "Gee" Schmidt, important figures in hip hop culture since the 90s. From its origins, the store was a catalyst for the street scene in the Dutch capital. Currently, Patta, in addition to marketing the best collections of all sneaker brands, and special collaborations, also have their own brand. And they have expanded their business empire to London. www.pattal.nl
————-
Photo Above: Party Patta
————-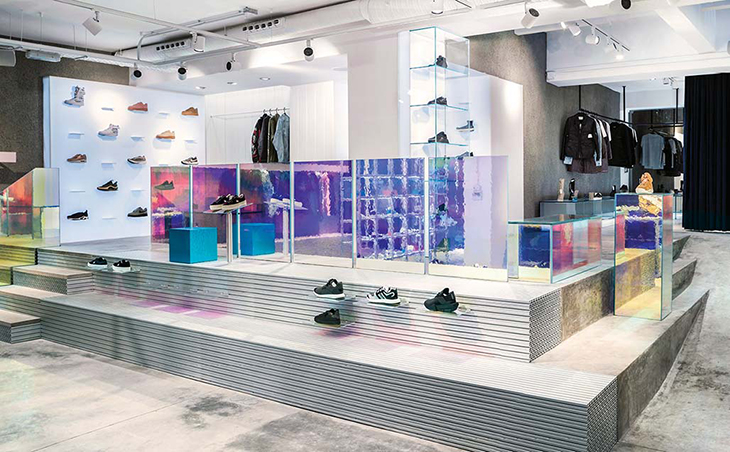 sivasbarefoot
Barcelona, ​​since 2011 (Madrid, 2012)
In this temple of urban fashion, the best selection of sneakers and streetwear clothes coexist alongside the most deluxe versions of brands such as adidas Y-3, NikeLab Pigalle, Yeezy or Rick Owens. It has two locations, the first in Barcelona and the second in Madrid since 2012. The year in which it also launched its e-commerce, which accounts for 80% of its income thanks to a powerful launch calendar to keep up to date of the latest most desired models. www.sivasdescalzo.com
————-
Photo Above: Sivasdescalzo
————-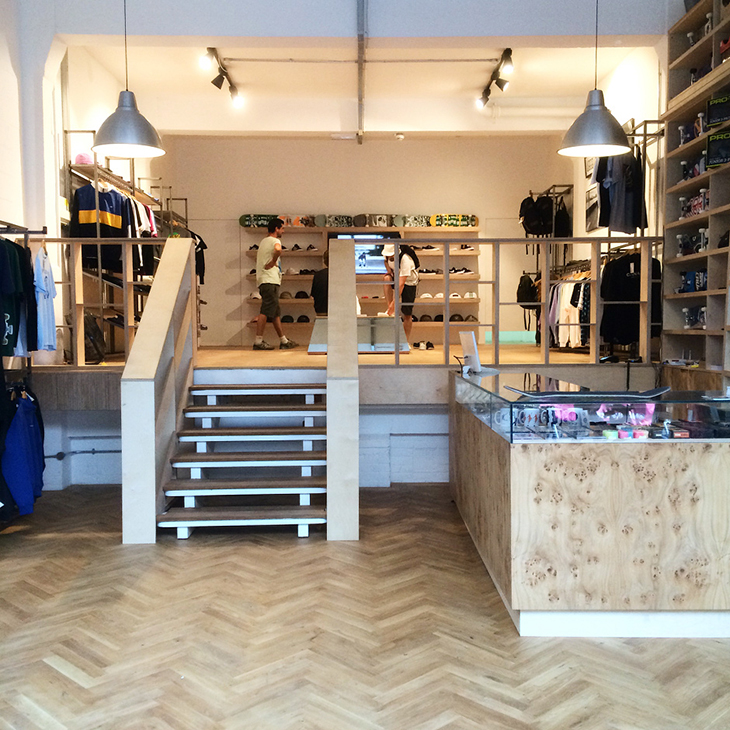 SLAM CITY SKATE
London, since 2011
Skateboarding is the common thread of this legendary London store located in East London. Located in the old Rough Trade record store, today it houses the best collections from Brixton, DC, Huf, Palace, Patagonia, Polar or Volcom, among others. All of them unconditional of the urban scene. www.slamcity.com
————-
Photo Above: Slam City Skates
————-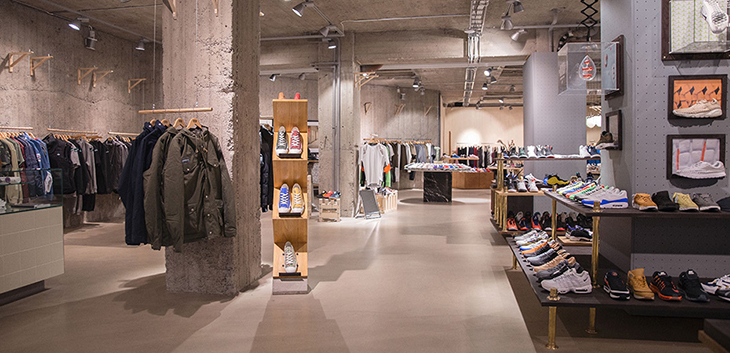 STUFF SNEAKERS
Stockholm, since 1999
Erik Fagerlind and Peter Jansson were sneaker collectors. This common passion constantly took them to New York and from those trips Sneakers Stuff was born. Today they are present in Stockholm, Berlin, London and Paris. It is one of the benchmarks in Europe, a position that has allowed them to design shoes for adidas, Converse, New Balance, Puma, Asics, Reebok or Vans. www.sneakersnstuff.com
————-
Photo Above: Sneakersnstuff
————-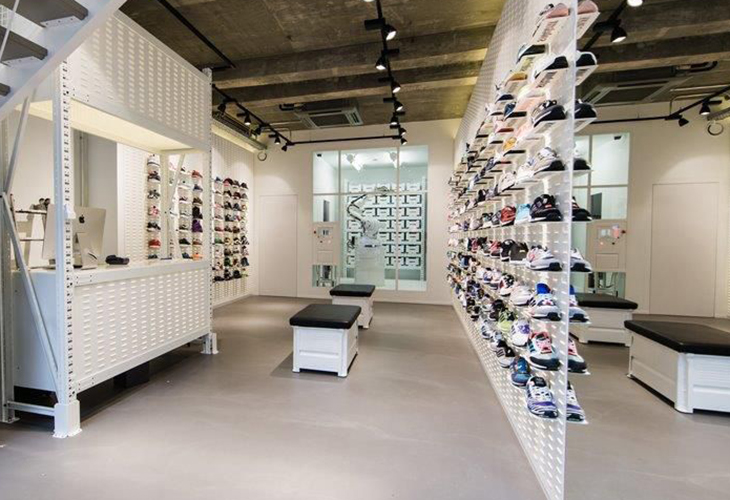 SOLE BOX
Berlin, since 2002
Berlin, one of the most modern centers in Europe, had to also have one of the most modern stores, or what they opened in 2014 was the "store of the future". Since the beginning, Solebox has been constantly evolving, always faithful to its style. Comme des Garçons or Medicom, the favorite toys of collectors, are on their list of brands. solebox.com
————-
Photo Above: Solebox
————-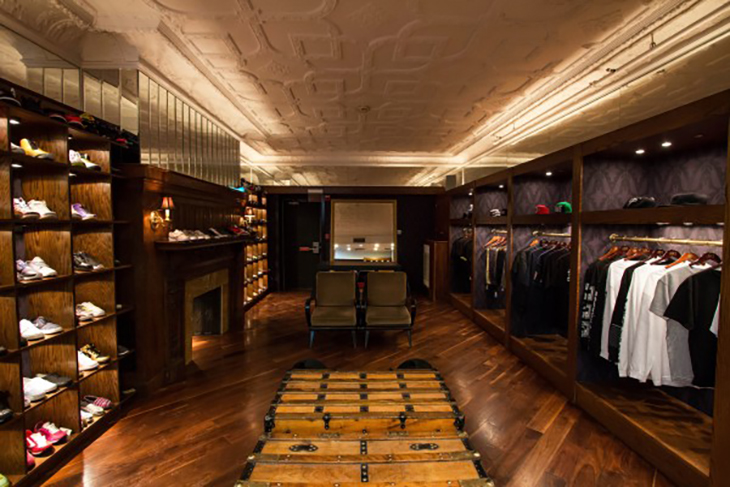 LOCATION
Philadelphia, since 2002
A fusion that we love, a mix between Japan and the USA. They carry the word avant-garde as their flag and there are many points that make them unique. One of them is their own line that has allowed them to collaborate with Diadora or New Era. But in addition, the shoe customization service distinguishes them from the competition, this is the most exclusive way to sell sneakers. www.ubiqlife.com
————-
Photo Above: Ubiq
————-

UNDEFEATED
United States and Japan, since 2002
How many sneaker stores do you know that get a license to do a collaboration with a Jordan classic? The resale of these models is between 20,000 and 28,500 dollars. This is called a coveted object, and the rest is nonsense! This season they have also made collaborations with adidas, A Bathing Ape and Alpha Industries. undefeated.com
————-
Photo Above: Undefeated
————-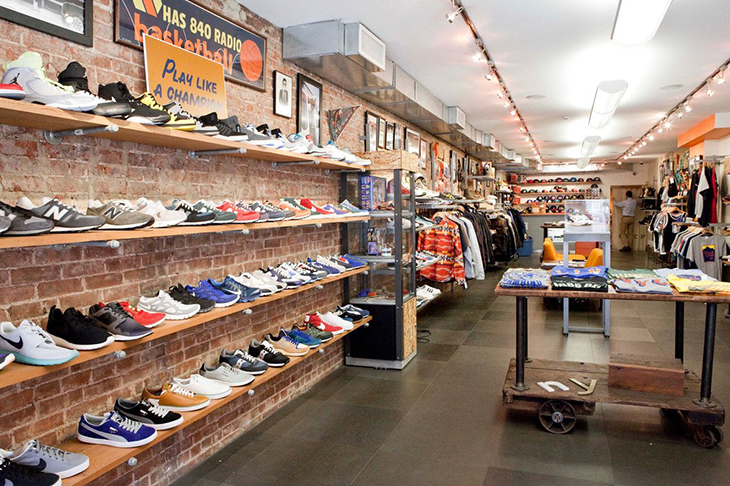 WEST NYC
NY–Manhattan since 2007
A strong family history in the world of footwear with 70 years of experience, that was Lester Wasserman's main letter of introduction. Now West NYC is the mecca of sneakers in New York, it has a large number of limited edition sneakers and his collaborations with New Balance or Saucony are famous. westnyc.com
————-
Photo Above: West NYC
————-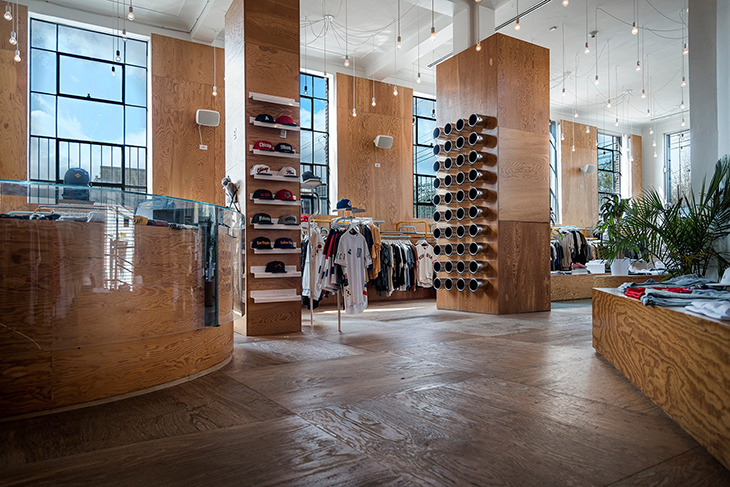 WISH
Atlanta, since 2006
Little Five Points is considered the most avant-garde area of ​​Atlanta, famous for its alternative culture. That's why Lauren Amos set up Wish there and through her work and vision has earned the honor of being one of the few stores in the US allowed to sell Nike QS's most coveted limited edition lines, Jordan Brand, Adidas Consortium, Yohji Yahmamoto Y-3 and Vans Vault. wishatl.com
————-
Photo Above: Wish
————-
If you want to expand with your suggestions the list of "the best sneaker shops in the world" You just have to leave us a comment on this post. We will study it.
This link you will find one of the latest great international launches of the sneakers world.
The article "the best shoe stores in the world" is also published in a reduced version in the summer issue of Neo2.