One of the best known Android benchmarks is, without a doubt, AnTuTu. This has published list of the best and most powerful smartphones in the month of October. Is yours?
Previously, the smartphone performance tool only revealed top flagship phones, but now there's also a separate top 10 list for the mid-range segment.
The most powerful mid-range and high-end smartphones in October 2019
The compiled results are based on the average scores of each phone and testing was done on AnTuTu V8. This means that they have been taken with the latest version available and undergo more severe tests adapting the use.
Taking a look at the flagships that we can see in the list, the Vivo NEX 3 5G is in the first position with its score of 482,917. Count as processor Qualcomm Snapdragon 855 Plus Y 12 GB of RAM.
In second place is another phone from the manufacturer Vivo, specifically the iQOO Pro 5G that managed to get a total of 481,997. The OnePlus 7T is hot on its heels in third place with its 481,784 points.
Next in line is the OnePlus 7T Pro, followed by the Asus ROG Phone ll and the Xiaomi Mi 9 Pro 5G. The list is completed by the Black Shark 2 Pro, Realme X2 Pro, Meizu 16s Pro and Redmi K20 Pro Premium.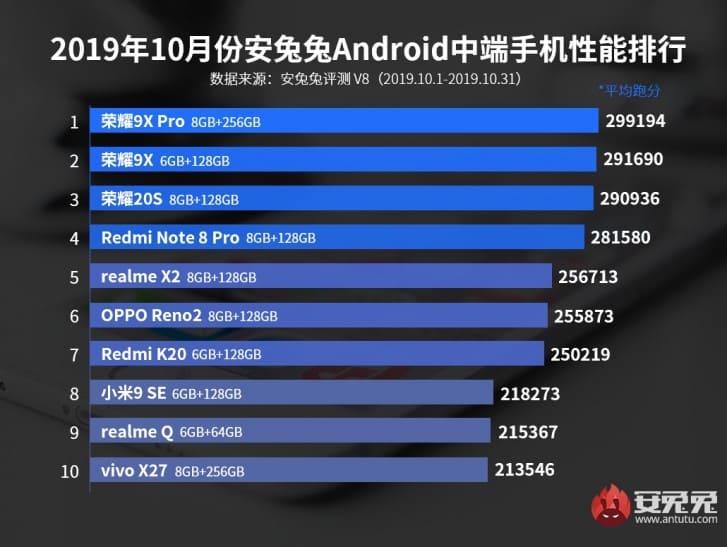 Moving on to the mid-range segment, we have the Honor 9X Pro in the first place, achieving 299,194 points. In this case, we find as a processor a Kirin 810 Huawei's own as well as 8GB LPDDR4X.
The Honor 9X is in second place with its score of 291,690, while the third place belongs to the Honor 20S which reached 290,936 points.
Going down the list, we see the Redmi Note 8 Pro, followed by the Realme X2 and Oppo Reno2. The Redmi K20, Xiaomi Mi 9 SE, Realme Q and Vivo X27 complete the closed list with a score of 213,546. But they will have to be careful, because there are more devices on the way like the Mi Note 10 with the Snapdragon 730G.
Now you know the most powerful devices in October, although we must be aware that AnTuTu is easily faked. How much score does your phone get? You can download the latest version available from APKMirror. | Source: GizmoChina
Do you want to receive the best information about technology?​
Enjoy the outstanding news of each week directly in your inbox to always be informed.